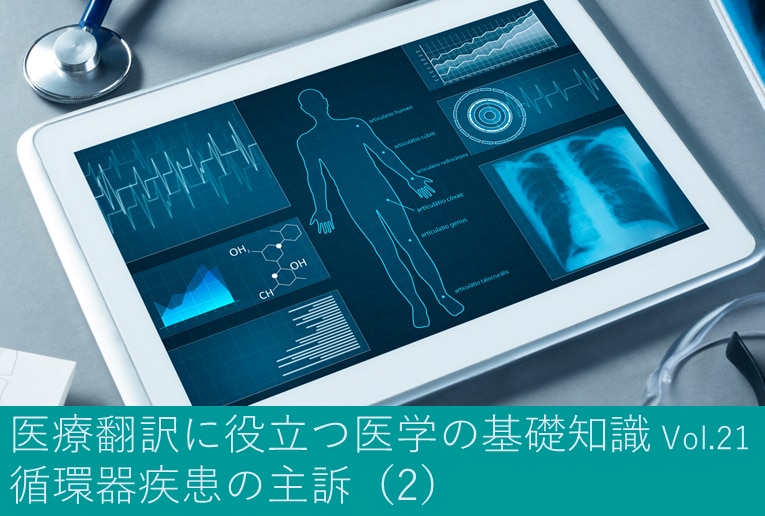 【医療翻訳に役立つ基礎知識】No.21 | 循環器疾患(Cardiovascular System)の主訴 (2)
Fainting (Syncope)
Definition of fainting (syncope) is a transient loss of consciousness.Here, although classified syncope symptoms of cardiovascular disease, diseases complain of syncope, diverse, including mental illness.As the cause of syncope, most common is the loss of consciousness due to a decrease transient cerebral blood flow (transient global cerebral hypoperfusion), if it was a standing position, the patient, because it becomes impossible to maintain the posture, fall as crumbling.However, in most cases, awake in about 10-20 seconds after the fall, it leaves no after-effects.In such as morning assembly and the graduation ceremony, school children that fall suddenly, but I think that there are that many people actually see and hear, the cause is a transient cerebral ischemia due to postural hypotension (orthostatic hypotension), head by laying to be lowered, cerebral blood flow is normalized, consciousness to recover.However, to support the surrounding people, and to maintain the state of a standing so as not to fall, cerebral ischemia is sustained, in the worst case be fatal.The people fallen by the postural hypotension during a call at a public telephone, happened to pass by the person is found, as a result of continued support so as not to fall down, but there are reports that were killed, it was thought that trying to help in good faith , it is one of the examples to be fatal to reverse.
In the elderly, rises suddenly, syncope, dizziness, such as the front of the eye becomes dark, it is common to sue transient cerebral ischemic injury (Transient ischemic attack, TIA) a.Cause is transient cerebral blood flow disorders due to stenotic lesions by arteriosclerosis, such as carotid or vertebral arteries.However, lightheadedness such Standing is, is that also occur in healthy individuals.
1) Cause (Etiology)
Vasovagal reflection (vasovagal reflex)
Cough attacks by syncope (cough syncope (cough syncope)) also enter into this.
Postural hypotension (orthostatic hypotension)
Transient cerebral ischemia occurs when maintained a standing position without moving
Neurological diseases (neurologic disease)
Heart disease (cardiac disease)
Otherwise
Example:Mental illness (schizophrenia, hysteria) in real fainting episode, but it may be injured when a fallen, when the fall in malingering, such as hysteria, not that the patient is hurt.In the movie "Little Women" (1949), Elizabeth Tayler played Amy is, the scene that fall from the place in advance cushion, is a typical.
2) differential diagnosis (Differential Diagnosis)
Differential diagnosis is approximately corresponds to the pathogenesis of the foregoing, syncope due to heart disease ④ (cardiogenic syncope), because there is a potentially fatal, to should not miss, it is necessary to respond quickly .The following describes the cardiogenic syncope.
Differentiation of cardiogenic syncope
Valvular heart disease for example:Aortic valve stenosis (Aortic stenosis)
Cardiac tamponade (Cardiac tamponade)
→ epicardial Maku腔 water is stored in, or epicardium becomes hard, that the ventricle is a state that can not be extended
Acute myocardial infarction (Acute myocardial infarction, AMI)
Left atrial myxoma (Left atrial myxoma)
Hypertrophic Cardiomyopathy (Hypertrophic cardiomyopathy)
Dissociative aortic aneurysm (Dissecting aortic aneurysm)
Pulmonary embolism (Pulmonary embolism)
Ventricular tachycardia (Ventricular tachycardia, VT)
Ventricular arrhythmias
完全房室ブロック(Complete A-V block)


関連記事