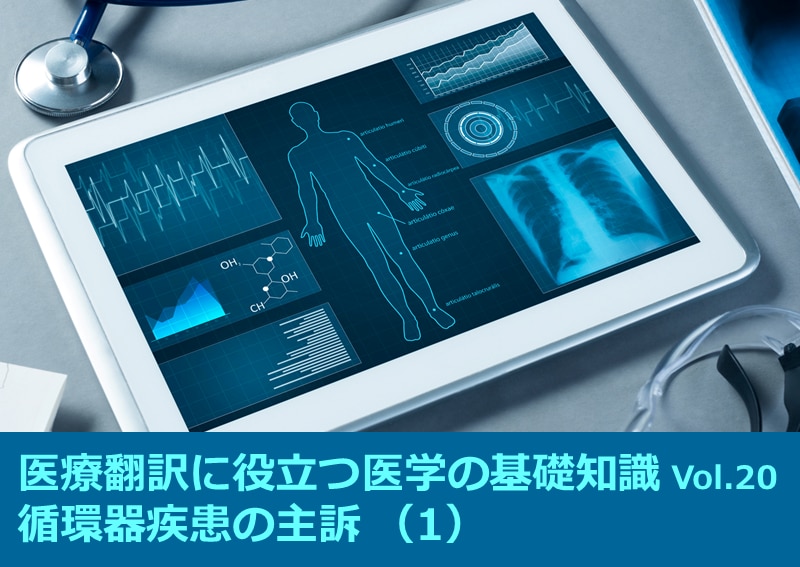 【医療翻訳に役立つ基礎知識】No.20 | 循環器疾患(Cardiovascular System)の主訴 (1)
Palpitations (Palpitation)
Similar to that of a state in which dyspnea conscious breathing, palpitations (palpitation) are originally be defined as a state to be aware of the beating heart without consciousness.Palpitations, pain (pain) and breathlessness (dyspnea, shortness of breath) in the same way as, is also a common complaint.Palpitations, often accompanied by tachycardia (tachycardia), heart rate often becomes 120 / min or more.Atrial fibrillation (atrial fibrillation: Pulse in AF) is irregular (= arrhythmia (Arrhythmia)), rather than the strength uniform vein strength becomes remarkable. Palpitations, although in some cases the cause is serious heart disease life-threatening, such as hysteria and anxiety (anxiety), also often the case that the psychological element is involved.Cause palpitations, organic disease (Organic disease) or functional disorders (functional disease) Kano discrimination is important, detailed medical history which pressing points (history taking) is in this case also diagnostic key to become.
1) Cause (Etiology)
Heart disease (cardiac disease):About 40%
     Supraventricular tachycardia (supra-ventricular tachycardia: SVT)
     Paroxysmal atrial tachycardia (paroxysmal atrial tachycardia: PAT)
     Atrial fibrillation (atrial fibrillation: AF)
Mental disorders (psychogenic): About 30%
     Anxiety neurosis
     Hysteria
     Malingering (factitious disease)
     Depression (depression)
Others:About 10%
     Hyperthyroidism (thyrotoxicosis, Basedow's disease)
     Anemia (anemia)
Cause unknown:About 20%
Of these, in ① and ③ is organic disease, ➁ and ④ in functional disease, the corresponding.
Later following ⇒ is, a patient complaining of palpitations, is a disease that should not be missed.
⇒ be accompanied by chest pain (chest pain)
     Myocardial infarction (myocardial infarction)
If accompanied by fainting (syncope) or impaired consciousness (presyncope) ⇒
     A high degree of arrhythmia (cardiac arrhythmia)
     Valvular heart disease (valvular heart disease)
     Aortic stenosis (aortic stenosis)
     Cardiomyopathy (cardiomyopathy)
There be faint even complete atrioventricular block (Adams-Stokes syndrome), but Jomyaku in atrioventricular block (bradycardia) next heart rate is 20 / min or less.
If accompanied by difficulty breathing ⇒
     Valvular heart disease (mitral valve stenosis (mitral stenosis), etc.)
     Pulmonary thromboembolism (pulmonary thrombo-embolism)
     Acute left heart failure (pulmonary edema (pulmonary edema))
     Paroxysmal nocturnal dyspnea (paroxysmal nocturnal dyspnea, PND)
起坐呼吸(orthopnea)は、僧房弁狭窄症(mitral stenosis)などによる急性肺水腫(acute pulmonary edema)で見られる特徴的症状である。
2) The actual interview that help distinguish
In the differential diagnosis of palpitations, accurate medical history is important.Below, we describe the main points of the interview.
If palpitations disappear in a few seconds ⇒ supraventricular tachycardia:supra-ventricular tachycardia SVT (example:Paroxysmal atrial fibrillation:paroxysmal atrial fibrillation)
Coffee or tea (caffeine) palpitations occur in ⇒ supraventricular tachycardia attack (SVT)
Once you have the breath hold (breath holding) palpitations loss ⇒ supraventricular tachycardia attack (SVT)
A history of myocardial infarction ⇒
     Ventricular tachycardia (ventricular tachycardia: There is a possibility of VT)
     Ventricular tachycardia is sudden death (acute cardiac death:Cause of sudden cardiac death)
動悸の持続時間が
1分以上⇒心房細動
数日以上⇒心房細動のこともあるが、心因性(不安、うつ状態など)の可能性が高い


関連記事