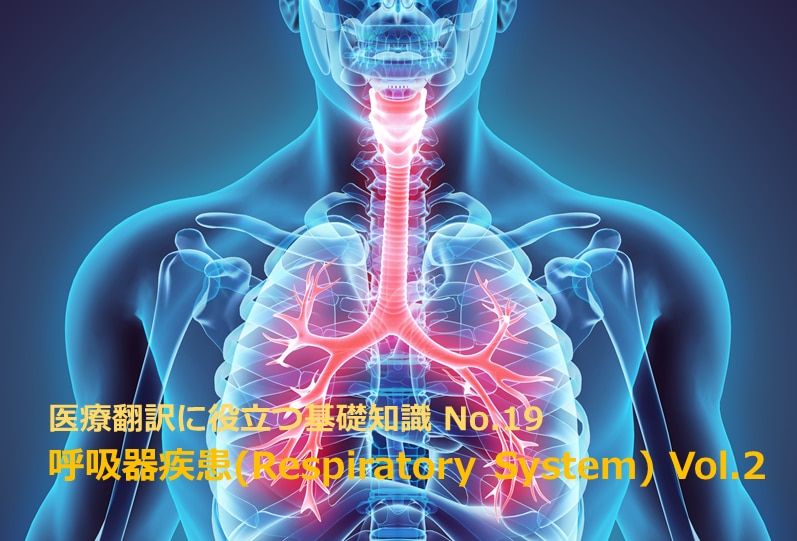 【医療翻訳に役立つ基礎知識】No.19 | 呼吸器疾患の主訴(Respiratory System) Vol.2
Hemoptysis (Hemoptysis), bloody sputum (Bloody sputum)
Hemoptysis (Hemoptysis) is a bleeding from the lungs, bronchi, sputum in the blood is mixed bloody sputum (bloody sputum) may also be thought to be one of the hemoptysis.
Such as the stomach, esophagus, bleeding from the upper gastrointestinal tract, with hematemesis (hematemesis), distinguished from the hemoptysis.Vomiting blood and discrimination of hemoptysis, if the veteran of the doctor, but only in medical history is possible, usually, for the first time of hemoptysis or vomiting blood of patients, sometimes I do not know either.
Hemoptysis by its degree,
Small amount of hemoptysis (mild (scant) hemoptysis) 20ml / 24hr following:The corresponding normal bloody sputum
Moderate hemoptysis (moderate hemoptysis) 20 ~ 200ml / 24hr
A large amount hemoptysis (massive hemoptysis): 200 ~ 600ml / 24hr or more
It is classified into.
Anyone with anxiety and surprise and phlegm blood is mixed in, it is often admitted to hospital.Patients cause disease to visit a bloody sputum complaining, such as bronchitis, but inflammatory disease of benign is high in frequency, a pulmonary tuberculosis, such as (pulmonary tuberculosis) and lung cancer (lung cancer), possible should not miss disease gender, it is necessary to always friendly.
1) etiology (Etiology)
Bronchitis (bronchitis) 20 ~ 40%
Lung cancer (lung cancer) 15 ~ 30%
Bronchiectasis (bronchiectasis) 10 ~ 20%
Idiopathic (cryptogenic, idiopathic) 10 ~ 20%
Pneumonia (pneumonia) 5 ~ 10%
TB (tuberculosis) 5 ~ 15%
In Japan, Showa up to 30 around, as hemoptysis = pulmonary tuberculosis, it did not make a mistake almost.Tuberculosis, but it is decreasing in Japan, the a patient whose main complaint is bloody sputum, even now, pulmonary tuberculosis is one of the forgotten should not be an important differential diagnosis.
2) discrimination of hemoptysis and hematemesis
Large amount of hemoptysis, a well-seen symptoms in the heyday of tuberculosis, was not sudden death also rare due to suffocation.Representative poet Hakyo Ishida also 1968 of Showa, at the National sanatorium Tokyo hospital of Kiyose, have died by the large amount of hemoptysis.
Hemoptysis by TB in bright red, but hematemesis from dark red often close to black brown, because, in tuberculosis lesions, anastomosis of the bronchial arteries and pulmonary arteries remarkable, whereas is rich arterial blood to hemoptysis , vomiting blood after bleeding, it accumulates in the stomach, due to the fact that a considerable amount of time is discharged from the standing.
3) differential diagnosis
Differential diagnosis of bloody sputum
lung cancer:It is a high possibility of lung cancer in particular, middle and advanced age male, smokers
Infection:Acute bronchitis, lung abscess (lung abscess), pneumonia, pulmonary tuberculosis, pulmonary fungal disease (Aspergillus lung, etc.)
Pulmonary hemorrhage:Goodpasture syndrome, Behcet's disease, Wegener granulomatosis, etc.
In clinical routine, many patients complaining of bloody sputum, bronchitis, or bronchiectasis, etc., but due to benign disease, easily rule out the possibility of lung cancer and pulmonary tuberculosis (rule out) and should not be.
血痰が1週間以上続く場合は、喀痰の細胞診(Cytology)と塗抹・培養(Smear and Culture)は原則として3回行う。細胞診は肺がんを、塗抹・培養は肺結核を除外するための検査である。


関連記事